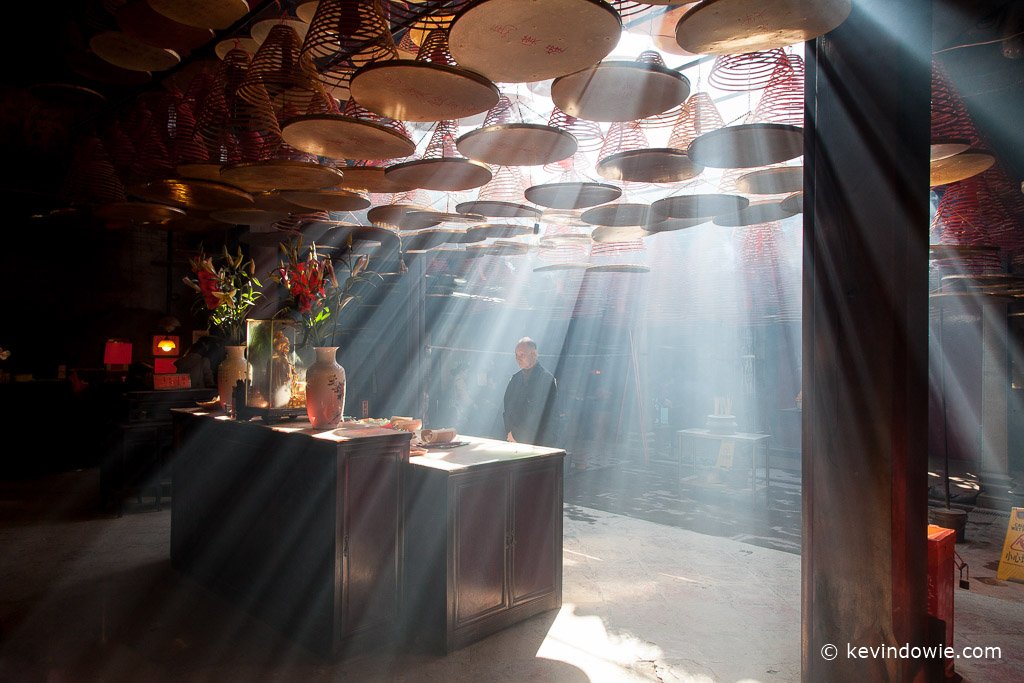 A visit to Tin Hau Temple in Hong Kong's Yau Ma Tei district.    Easily accessible via Hong Kong's public transport network, I found this temple offered some interesting photographic opportunities.   In common with other Chinese temples,  there is a play of light that occurs with the partially open roof and the smokie haze of hanging incense spirals.   There is always a need to respect the place and the dignity of people,  never more so than in a place of worship.     The present-day custodians of the temple explain the history of the place as follows:
"Originally, Yau Ma Tei was a shallow bay sheltered by a sandbank and used as a home by boat people. From about 1800, Yau Ma Tei had a temple to Tin Hau, Goddess of seafarers. When Yau Ma Tei was developed in 1864, the temple was enlarged and greatly beautified. In 1876, the town was rebuilt and the temple was moved to a new square, around which public facilities were placed. The temple was extended in the 1890s and was taken over by the Tung Wah Group of Hospitals in 1929. In the centre of the temple is an altar to Tin Hau. The side halls include many other altars and shrines, including important shrines to the local earth gods."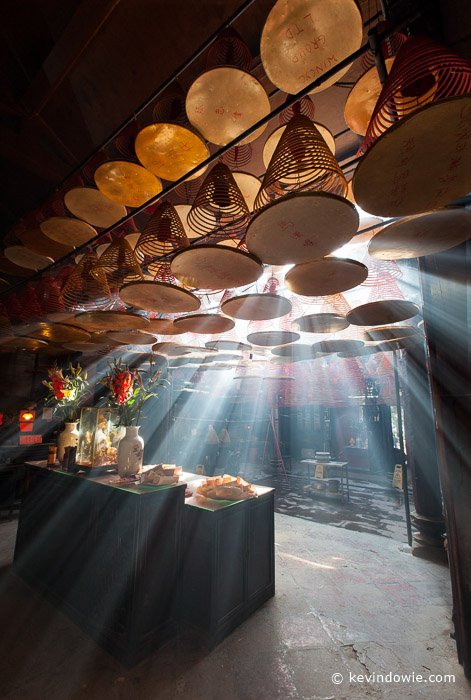 The light and graphic shapes are what make the temple so pleasing photographically.    Wide-angle lenses are of value,  I found myself using the 16-35mm zoom at the wide end for many of the images.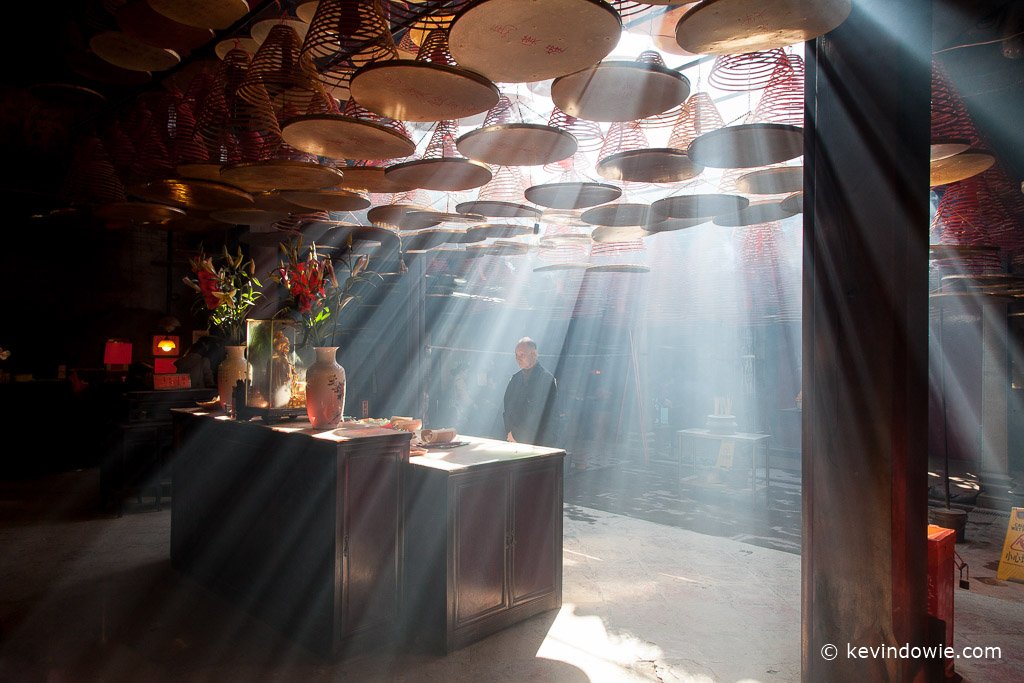 Yes,  I'd prefer that the yellow "wet floor" sign wasn't there but,  I wasn't going to "rearrange the furniture" in such a place,  and I wasn't going to change the composition of what I felt was a none-the-less pleasing image.
I was tempted to caption the photo above as "the conductor" given the man's posture and movement 🙂    If you look carefully,  you can see that he is in fact hanging one of the spirals by a wire hook.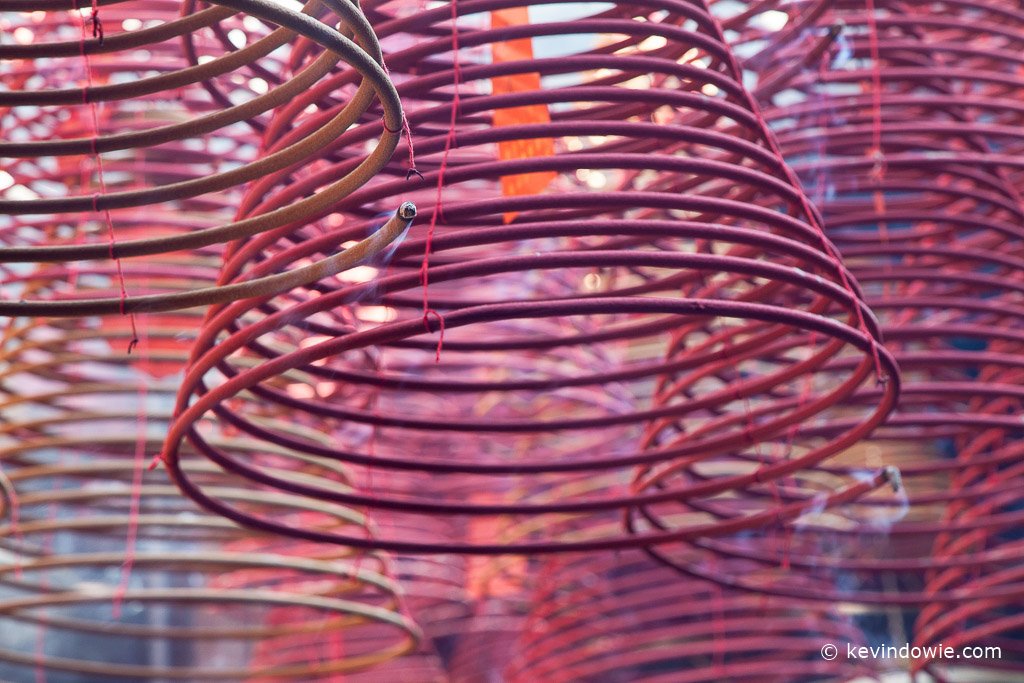 The incense spirals,  which are an element in so many Chinese temples,  add to the atmosphere of the place.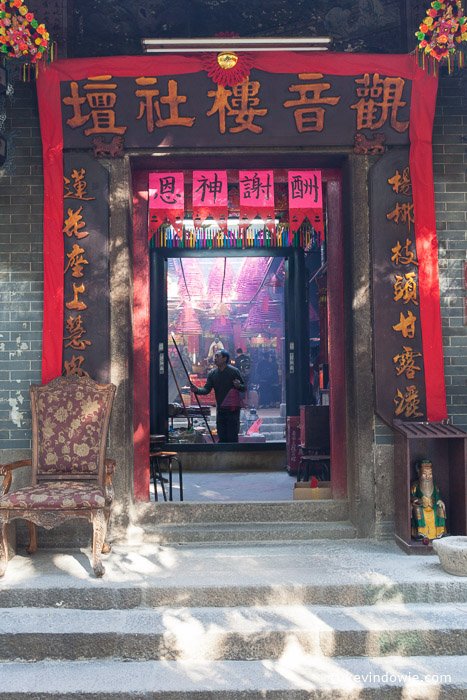 These images are part of my Hong Kong image gallery.    ~KD