Overlooking Plaza de Mayo, in the San Nicolás neighbourhood, is one of the city's most notable buildings, the Metropolitan Cathedral of Buenos Aires (Catedral Metropolitana de Buenos Aires).
The location was designated as the site for a church back in 1580 when BA was just being established. In the hundreds of years that followed, the church was built, partially collapsed, rebuilt and restored many times. Most of what is seen today was built or restored in the last 150 years.
The decoration of the facade was finished between 1860 and 1863, the floor mosaics were laid down in 1907 and repaired between 2004 and 2010.
Among the elements dating from the colonial days is a giltwood altarpiece in Rococo style, dating from 1785 and executed by Spanish sculptor Isidro Lorea.
The Main Nave, Metropolitan Cathedral, Buenos Aires
Interior, Metropolitan Cathedral, Buenos Aires.
Main altarpiece by Isidro Lorea (1785) Metropolitan Cathedral, Buenos Aires.
Maintenance, Metropolitan Cathedral, Buenos Aires.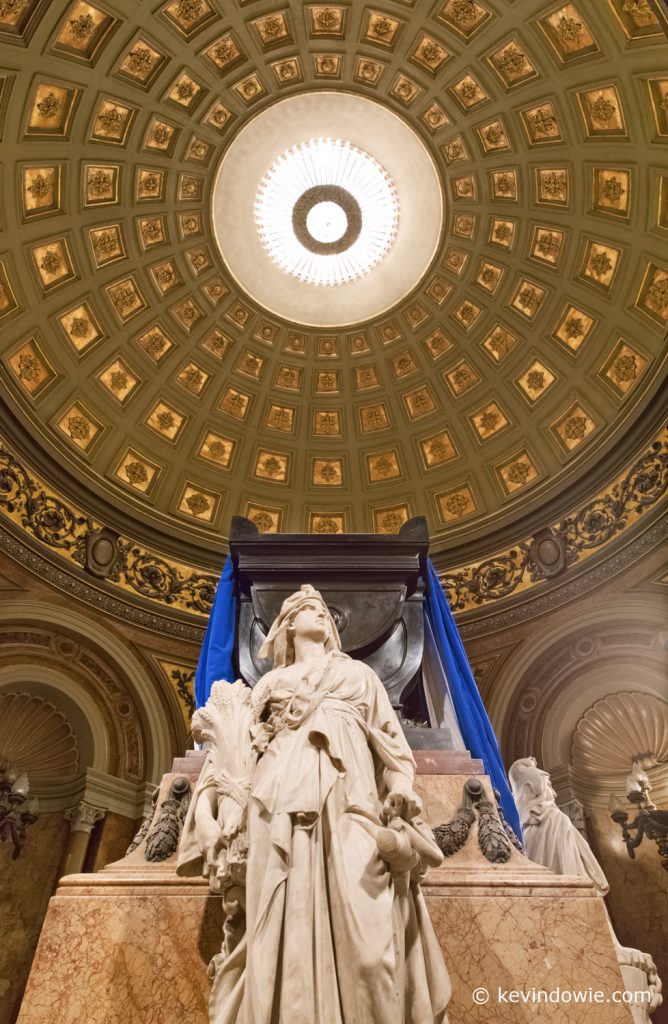 Mausoleum of General San Martín. The statues represent Argentina, Peru and Chile. Metropolitan Cathedral, Buenos Aires.
Ceremonial guard, Mausoleum of General San Martín. Metropolitan Cathedral, Buenos Aires
(Above). The cathedral houses the Mausoleum of General José de San Martín an important historical figure remembered as El Libertador of Argentina, Chile, and Peru. Born in what is now Argentina, he was a general and the leader of the southern and central parts of South America's successful struggle for independence from the Spanish Empire.
Parishioners, some pray, some check their mobile phone…. Metropolitan Cathedral, Buenos Aires.
Photographing Cathedral interiors.
One of the challenges in photographing the building interiors was the relatively low light levels and the need to shoot handheld. This meant shooting in burst mode at very high ISOs and stacking the files in Photoshop as I have previously explained. Many of the images here were shot at ISO 32000 typically with 30 to 50 files in each stacked composite.
For further photos check out the Argentina image gallery.
Privacy and the internet.
With the concentration of internet power and influence increasingly in the hands of a few massive corporations, focused primarily on how much money they can make out of advertising, there is good reason to consider how vulnerable your privacy is. I recall some time ago reading a caustic comment on the web along the lines of, "if you're not paying for a product, you are the product". As time went on, and I developed something of a love/hate relationship with social media, the comment seemed more and more astute.
Someone I follow online is US-based tech guru and commentator Lon Seidman. He put together an interesting piece on the subject, recommended viewing; Lon Seidman on internet privacy
Colour or Black and White?
Having processed today's images in colour, I felt the historic nature of some of these scenes might lend themselves well to a monochrome treatment. So tomorrow I'll present some black and white versions with a small dash of sepia toning for good measure! ~KD