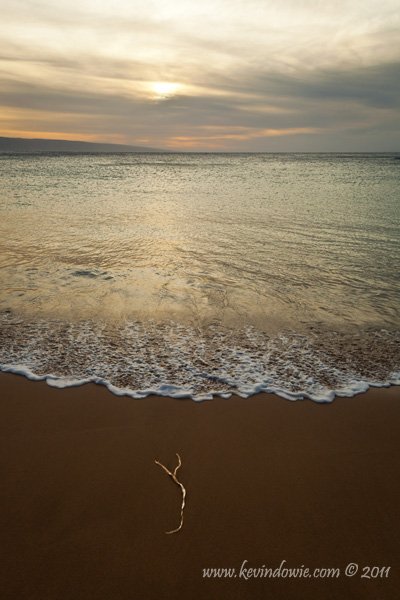 Whilst I've been back home for a while now and I'm back at work,  photographically I'm still on Ka'anapali Beach, Maui.  🙂    Today's image was taken around sunset and in vertical format,  I decided that I wanted to use a piece of washed-up debris (is that flotsam?),  insignificant as it may have been,  as a foreground element.  A fair bit of work was required in post-processing to make it effective.
Processing was done mostly in Adobe Photoshop Lightroom, the steps were as follows:
Lens Correction. I relied on the profiled setting for the 24-105mm zoom lens I was using. This corrects for linear distortion, vignetting etc. (helps to ensure those horizons are curving the right way 😉 )

Clarity/Vibrance/Saturation. After confirming that overall exposure was correct by checking the histogram, I chose the settings:- C/20, V/12, S/17. A bit heavier on Vibrance and

Saturation than my standard as I wanted to give this image's colours a bit more punch. Generally, I use 7 points of both Vibrance and Saturation as my starting point. There is no right or wrong on this, of course, it's very much a matter of personal preference or taste.

Tone Curve. I wanted a touch more "depth" to the dark values in the image and so set the "dark" values at -5 points.

Selective adjustments. I wanted to work specifically on the stick and the water. Firstly I selected the stick with the adjustment brush and increased exposure, brightness, sharpness and clarity (phew!) Then I selected the water and increased both the clarity and saturation.

Spot removal. The healing brush to remove a distracting spot on the sand, from memory it was a small shell.

Vignette. Under the "Effects" tab, a very subtle vignette (-5 points).
All that was then required was my standard finishing steps,  image sizing,  sharpening,  noise reduction,  copyright reminder text and conversion to jpeg.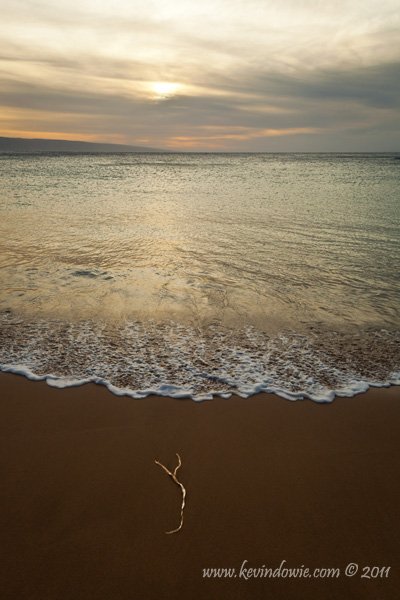 In upcoming posts,   I'll head to the hills!   Just to prove that I didn't spend all my time in Hawaii lounging around on the beach 🙂
For those who are receiving the blog via the RSS feed subscription system,  thanks.   For those who aren't it's a simple matter of subscribing. ~KD.