There are many beaches and shorelines around the Big Island of Hawaii which consist largely of black lava rock, not surprising given that the islands exist because of eons of volcanic activity.
In addition to the black rock, however, the volcanic process also can result in white rock being formed, pumice I believe. It's not unusual to see white stones on black lava as in today's pictures. Over the years (and today too) people have found it irresistible to make patterns and symbols out of the stones.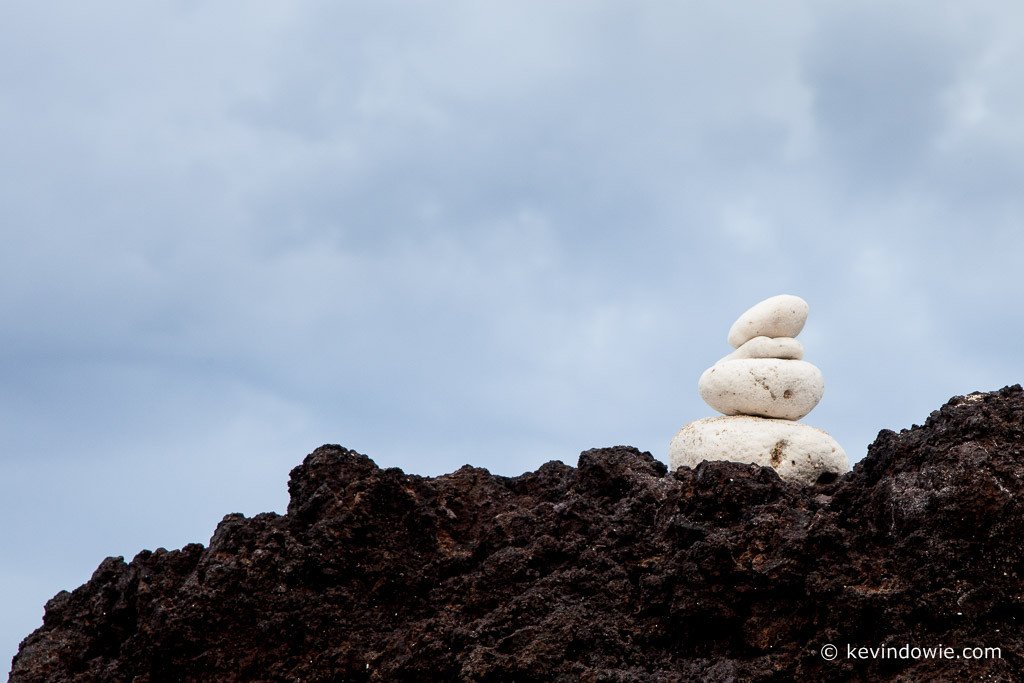 White stones stacked on black lava rock, Big Island, Hawaii
White stones on black, Big Island, Hawaii
"The Turtle" The Big Island, Hawaii
It's easy to read too much into some of the patterns and symbols. As I was walking along a trail at this beach, there were signposts and markers explaining some of the native Hawaiian history and tradition of the area and of course asking that visitors respect these things and leave them alone. The Turtle is a traditional design which has been used for hundreds of years, maybe this example was made many years ago by the ancestors.... or maybe it was made last week... who knows?
As I was walking along the trail, taking in the historical, cultural, symbolic value of it all, I rounded a corner to find a pair of honeymooners gathering up white stones and forming their initials in a heart with them. So much for history and culture, an unwelcome reality check. As I said at the start, people to this day find it irresistible. ~KD.