The lone cyclist was pedalling along a narrow track on the outskirts of Luxor, Egypt, when I observed him from high up in a hot air balloon.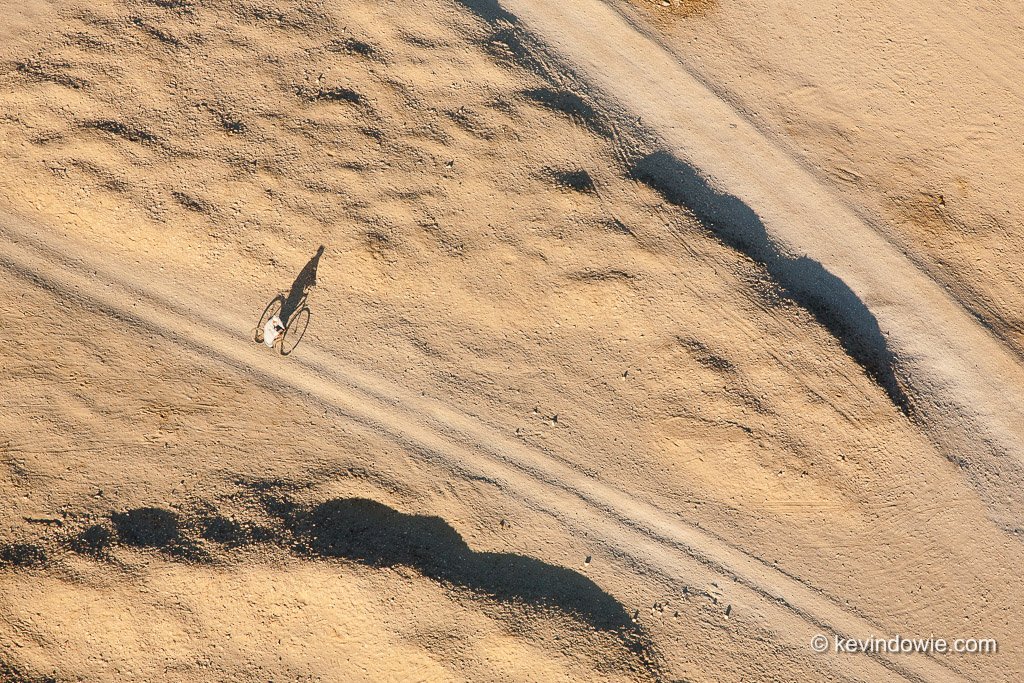 The lone cyclist, Luxor, Egypt.
Previous visitors to this site may have seen the image "Balloon over Luxor" and read the explanation for that image. This image was captured on the same date, shortly after sunrise.
The image was captured with a Canon 5D digital SLR camera fitted with a 24-105 mm zoom lens at 105 mm, aperture, and shutter speed were not recorded, but I believe they were about F5.6 and 1/250 sec with image stabilization employed, ISO was 100. The RAW file was processed through Adobe camera raw and Photoshop with a slight increase in colour saturation and contrast. As it's presented here, the image is cropped to approximately 75% of the original frame.
Simplify, simplify, simplify.
If there is a mantra to remember in photography, I think this is it. The lone cyclist caught my eye as we drifted over the landscape and I wanted to make him the main focus of the image with the only other significant element being the beaten tracks forming diagonal lines across the image. I like the slightly abstract feel to the image, the cyclist himself isn't immediately obvious but becomes apparent because of the distinctive long shadow he casts.
Regardless of whether or not the image has any particular aesthetic value, I think it does serve as a testament to the extraordinary technical capability of modern digital SLR cameras. When I enlarge the original file on the computer screen, the individual spokes in the bicycle wheels are clearly visible, you can count them. Pretty amazing when you consider;
how small in the frame the bicycle is,
the man was riding the bike at the time and the wheels were spinning,
it was taken with a handheld camera from a moving balloon from a height probably about 200 metres above the ground, and
they're bicycle wheel spokes! They're made from wire the same gauge as used to make coathangers!
For more, see the Egypt-Jordan image gallery. ~KD.